Description

The PA-150 is the largest coolant pump we sell. It is used where the required amount of coolant is particularly large – e.g. in use with surface grinding machines, large lathes and milling machines as well as machines for processing glass. Like the PA-35 and the PA-70 it is a motor-driven pump for machine tools but can provide a higher amount of liquid and a higher discharge head.
The PA-150 is designed for industrial use and is characterized by its robustness and long service life. It is operated with three-phase current (alternatively single-phase operation in the PA-150M version) and meets the requirements of IP 54 (learn how IP-codes correspond with NEMA).
The housing is made of extruded aluminum or non-flammable, acid-resistant plastic in accordance with the following standards: VDE 0730 and UL 94. The pump shaft is made of V-2A steel, the bearings are from NSK, extremely durable and vibration-damped, mounted in semi-rigid shells, which leads to an almost vibration-free operation.
The pump is resistant to liquids permeated with particles (e.g. contaminated coolant) and all chemical compounds that are typically used in cooling lubricants. It can be throttled up to 80%, which enables optimal adjustment of the flow rate. The inlet port of the pump is compatible with Quick-Fit couplings.
We can customize the PA-150 for all mains voltages upon customer request.

Specifications
Power Consumption: 260 Watt
Voltages: 230 V | 400 V
Phases: 1 or 3 Phases
Frequency: 50 Hz
Discharge Head: 24.9 feet
Capacity: 19.8 GPM (75 l/Min)
Immersion Depths: 4.7 in (120 mm) – 15.7 in (400 mm)
Cover Material: Extruded aluminium, POM
Impeller Material: POM
Shaft Material: stainless steel (AISI 303)
Bearings: CW long-life bearings in semi-rigid supports
Weight: 5.1 lb
Outlet Thread Ø: 3/4 "
Protection Category: NEMA 3 (IP 54)
SKU: 6140
Discharge Head & Capacity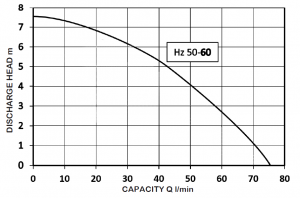 Figure 1 shows the maximum delivery rate depending on the discharge head for the pump PA-150.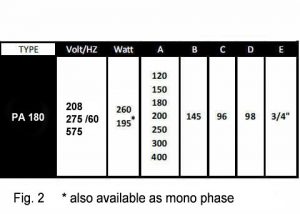 Figure 2 shows the length in mm of the immersion tube under "A", which must be taken into account when ordering, see also Figure 3.
Installation and Electrical Connectio

n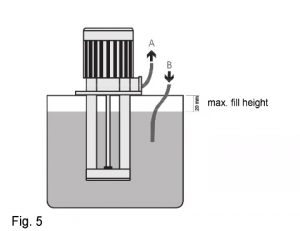 The pump is to be installed on the tank as shown in Figure 5 so that the immersion tube is immersed in the coolant. The housing part that contains the electric motor must not come into contact with the coolant. Ensure that there is adequate overflow in the tank.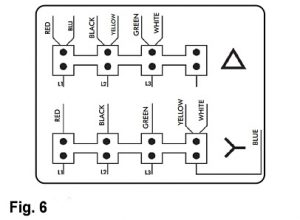 Figure 6 shows the connection of the pump in star or delta connection. As an alternative to this standard, we can also convert the pump to single phase operation without incurring additional costs. Please note that approximately 10% of the pump's capacity is lost.